Conditions concerning taxis, ride sharing and car rental in Manila
公開日: : 最終更新日:2023/05/30 ライドシェア

As our third overseas camp, this time we went to Manila. After all Uber has become a big topic.
My concern was confirming the information that the Uber-type transportation organization was enacted by law in the world for the first time, and confirmation of Uber's legality (illegality) in the state before that.
Also, the purpose was to confirm the legality of the car rental with driver. This may reveal inconvenient truth to taxi industry in Japan, but in order to survive in the spread of worldwide distribution system, even if it is inconvenient the truth is recognized I think that we must keep it.
We visited the National Center for Transportation Studies of Philippines University, Manira Bulletin, RyoAki taxi Company, BEMAC and Micab, and a taxi driver in Payatas.

1  Economic growth and traffic congestion and The impact they have on taxi business
Manila's economic development is remarkable among the ASEAN countries. Together with that, traffic jams which increase intensification not only make the citizens cry, but also make tourists cry.Causes of traffic congestion are mismatch between road capacity and traffic demand.
Development of highways, subways, etc. is delayed.
Vast luxury residential areas called village are scattered in Makati district and many others, and they are circling traffic congestion.As expected, the researchers at the University of the Philippines said that the Virgage side also began accepting passage from the outside by saying that it is a Christmas gift from September to the beginning of January.
Ten major conglomerates occupy 60% of the Philippines market. I received explanation from Hirohisa Suzuki of the Halohalo Alliance that the bank deposit does not have a column of the holder under constitutional request. The company is handling the real estate business by arranging the Philippines permanent residence (required about 3.5 million yen) to the Japanese.
In Manila, for bidding congestion, prohibition of ride by license plate number once a week (coding) is being implemented. From my experience in Japan I thought that it would be like a government's alibi certificate.In the long term, infrastructure development should be carried out continuously regardless of government changes.In my memory, it seems that there was a subway aid plan in Marcos era. I thought that the subway was already made. Immediately after the Educa Revolution, I had talked with Roberto Tixon who was a tourist attache at the Philippine Embassy in Japan. At that time, he was sorry that the country that was developed next in Japan in Asia was the Philippines.
Since the railroad is not developed, there is no alternative to crowding. Taxis are badly responding to users and are reputable.
Taxi number is 33,000 units, which is small against demand.In the case of Uber, the number of operators of private cars exceeds 36,000. It is also the reason why Uber and others are welcomed. We must also recognize that this point is different from Tokyo.Meanwhile, Micab is trying to develop business by taking the inside of a taxi in traffic jam as a good opportunity to sell advertising media.The developed idea is RYOAKI taxi fare freeing concept.He seems to think that it is possible if 500 cars can be increased to 2000 cars.He seems to be thinking of forming with other companies.
2 Charter and riding together 
Manila citizens are competing with ride sharing against traffic congestion. Zipney has long been a poetry. This is a small bus which remodeled the Jeep, and the route inside the city is like a capillary tube.Even in Osaka, researchers have proposed suggestions for the introduction of zipney type vehicles at the time of heavy traffic congestion. What made this zipney evolve using smartphones is a ride shot such as BRIDJ which is talked about in the West. In Manila where the railroad is not well-developed, the bus is a trunk transportation system, and zipney of the Manila poetry is the champion of the transportation traffic.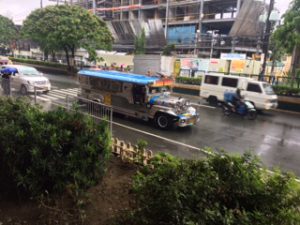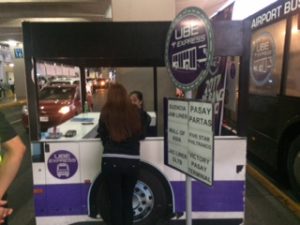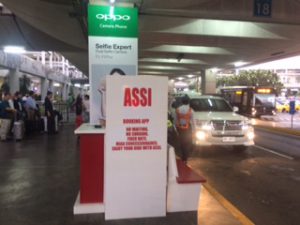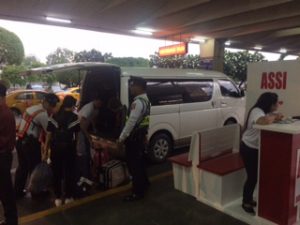 There is Utility Vehcle express as a supplement to this, and it is also called Mega Taxi, FX Taxi. Having a boarding facility and being metered by a meter, it is rather close to a small bus.The representative of the transportation type of the charter type is of course taxi, it is classified into a regular taxi with a low fare and a yellow taxi with a high fare. However, the color of the license plate of a taxi running in the city mixed white and yellow, and I did not understand the meaning at first.
Manila taxis have a bad reputation. It is caused by traffic congestion, but the form of duty also affects. At one point, I heard that at Manila Airport, the yellow cab(with white number plate) had been banned.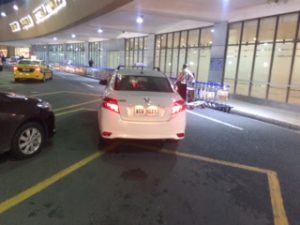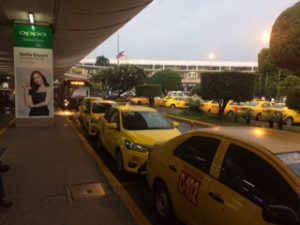 The driver may pay a fixed amount of money from the fare income to the company. Therefore, the employer's business management can not be done. If the business management is solid, as drivers work as much as they work, they will be able to maintain taxi's reputation as well. Actually, it is a problem of management system because its reputation is bad.There is no retirement age, it will only deviate from social insurance after the age of 65 years. Drivers who interviewed in the Payatas district could not distinguish taxi managers from car owners.He only thinks that he owns the car, and as I asked it several times, then he recognized that the owner was a taxi manager.
He pays 1,300 pesos per day from the sales of 3000 to 3500 pesos a day to the owner of the car.Gasoline fee etc is driver's burden. The driver is working every other day.
According to the manager of the RYOAKI taxi, the license will be 60 thousand pesos in 2011, currently 500 thousand pesos, the actual deal is 1 million pesos.It is also said that there are many fake licenses and there are risks in trading. In Manila, a taxi ride averages around 10 kilometers per 500 yen. Credit card penetration is low.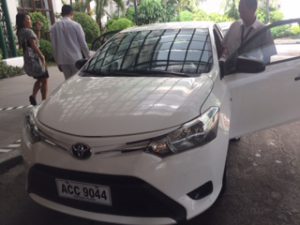 3 Uber's appearance
Uber, GLAB, etc. appeared to the citizen with a poor reputation taxi. This dispatch service application plays a role of a platform directly connecting passengers and drivers. Taxi drivers and general civilians can also register for this dispatch service. Passengers can also search for driver's name, telephone number and vehicle number as additional functions. There is TNC application with satellite tracking function, and passengers can use this to let friends and family know the route and accurate position. The fee when using such a dispatch service application is generally 2 to 3 times as much as the usual taxi fee, but it is actively used by customers who are seeking a safer, faster, more reliable than public transportation. Taxi drivers are aiming for earnings, customer service deteriorates, and maintenance tends to neglect using cheap gasoline. It is natural that traffic congestion becomes permanent. On the other hand, the maintenance of uber-drivers who use private cars is also solid, and reputation gets better.
Suspicion against this method was raised against the provisions of the Philippine Public Service Act (Republic Act No. 146).Since this law was enacted in 1936, it is continuing from under US administration, and common carrier which is the basic concept of British and American law concerning transportation has appeared.Since passenger cars are defined as regular carriers and those of nonstandard routes, it is imaginable that the same situation as London and others will occur.
http://www.lawphil.net/statutes/comacts/ca_146_1936.html
The Act is a basic law, specifically, it is based on the provisions established by the Land Road Traffic Authorization Regulation Committee (LTFRB).
I wanted to confirm this point, but the survey in this chance was inadequate.
In 2014, LTFRB began surveying about individual vehicles registered for dispatch service. The driver's license was forfeited, the vehicle was confiscated and ordered to pay a fine of 200,000 pesos.Naturally, many criticisms were received from general users to support Uber of LTFRB.
Since it is necessary to respond to the public demand, On May 28, 2015 the LFTRB issued a series of Memorandum Circulars 15, 16, 17 & 18.It is said to be the first in the world to put application-based public transportation services into the framework of national legal regulation.
However, since it is the judgment of the independent administrative committee, it will be a semi-legislation.
4 Uber uproar
The trouble occurred again between uber and LTFRB. In spite of the June 2016 directive, when LTFRB issued a directive to refrain from recruiting new drivers for NTVS, GLAB complied, but Uber continued new recruitment in violation of the order .On the other hand, LTFRB ordered Uber to order on 30 August on 14th August. As Uber drivers became unable to live, troubles took place, and troubles caused when users could not use the application, Uber resumed business and showed a posture to bring it to court on the 17th.The Senate Public Service Committee chairman also embarked on arbitration on the 16th. Eventually, LTFRB will pay a fine of 190 million pesos (19 days of Uber's earnings of 10 million pesos per day) on Friday, August 25, and paying 36,000 Uber's operators with 20 million pesos The LTFRB granted restart of business on condition that compensation is made.It is probably the administration of the independent administrative committee of British and American law flow. It is the way of settling that can not be thought in Japan.
"LTFRB asks Uber to pay P190 M fine" Manila Bulletin News 7 Sep. 2017
5 Categorization of NTVS and Premium Taxi
Under the new system, LTFRB categorized NTVS, categorized premium taxis, airport buses and BRTs as well.The PREMIUM taxi is the same as NTVS, that the car age is less than seven years, the credit can be settled, and the dispatch application is utilized.The difference between the two is whether street-hailing is possible or not. I was surprised that PREMIUM TAXi was not talked about, as I visited the site. There are things that the New York City Transportation Bureau etc is proposing to recommend ARROW, CURB, etc, but it seems that the high tech conversion of existing taxis does not progress as the administrative authority thinks.
6 Car rental with driver and driver's license
Car rental with a driver costs $ 100 a day. Even in Japanese sites, we are seeking recruiters with Japanese drivers with drivers. For Japanese traveling to the Philippines, it is convenient to book in advance.
The taxi industry is not resistant to sales with car rental driver. RYOAKI taxi also runs both. The difference between a rent-a-car with a driver and a taxi goes briskly, it is presence or absence of a meter, and the sales form is high. It is a country of English law and law. It is a common sense that taxis and something are run by sink, others are not taxis. When I question this point, I have a face that it is natural.
The color of the number plate, zipney, bus, yellow taxi is yellow. Car rental, personal use Uber's license plate is white.I understand that the common carrier will attach a yellow license plate. The taxi which I got on from the late night hotel, the license plate was white, with a meter on. I was leaving the Philippines without being able to read the instruction book or the clause indiscriminately.
There are four kinds of driving licenses, students, professional, non-professional, and conductor. You need 50 pesos to change from non-pro to professional. Car rental, uber's driver needs a professional license.
For students and conductors, they were permit and did not become Licence, but I did not understand well.
前を走る黄色のナンバープレート車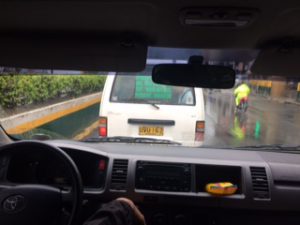 黄色ナンバーと白色ナンバー

7  Micab's appearance and differentiation of shipping function
Micabの経営者の写真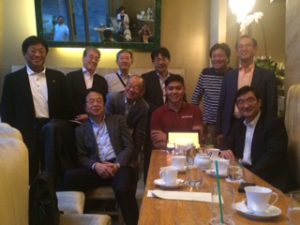 In the Philippines, micab starts from October 2017. It is a system that matches the driver and the passenger. Micab gets a peso booking fee of 50 pesos from passengers, but since it pays 40 pesos to the driver and 10 pesos to the taxi company, there is no real income of the system company. The taxi company will bear the communication cost. The tablet that the driver uses in the car is paid from the telecommunications company. Micab is the sole source of revenue for advertising expenditure on the tablet. MICAB will advance into Manila based on success in Cebu.
Unlike uber, MICAB only deals with taxis. Therefore, it is understood from LTFRB that it is not NTVS. As a result of considering competition with uber, paying booking fee to taxi company and driver.
Therefore, MICAB is a system that matches taxi drivers and taxi companies owned by taxi vehicles and users, and is a system unique to Manila in which the transportation function is effectively differentiated. Furthermore, micoach running on the fixed route will also be started next year.
In micab, passengers evaluate the driver and the driver also evaluates the passengers. The driver can refuse passengers up to three times, but beyond that will be excluded from Micab's system. Since it is a problem in the system, the view that it does not hit the refusal of riding is also common because MICAB does not fall under NTVS.
Interpretation that passenger's booking fee is not included in taxi fare is also understood by the regulatory committee. It is natural because it is not a shipping agency.
It is my opinion (see blog https://jinryu.jp/blog/?p=7881) I was surprised that the differentiation phenomenon of transportation function occurred in the Philippines in the case of a taxi.
https://www.facebook.com/MiCab.co/
To the end
Actually in Japan, there is a possibility of this business model.
Transportation fields ,beside taxis business, are largely differentiated into 3 categories, those are the facility provision service, the staff dispatch service and customer-collecting service. In order to form a huge international network, we are not able to complete individually, therefore we form alliances. As a matter of course the world of land transportation will become such a disaster as Human Logistics becomes huge. Google thought about Google rider and then thought about Google taxi because it aimed at a business model based on advertisement income and kickback from a retailer, not transportation fare. Matching car rental customers and their dispatched drivers on a volunteer basis does not violate road transportation law.