Touristic problem of Jeju island richer than Okinawa and Kyushu held ~ Participation in press tour ~
It was a short time from November 2 to 4, but I participated in the press tour of Jeju. This is to explore the secret of Jeju Island where residents' income is higher than Okinawa and Kyushu.
Jeju Island is historically and politically compared with Okinawa, but this time I focused on sightseeing only. Jeju island has a population of 600,000 for 1.4 million people in Okinawa and compared with the number of tourists from outside the island, Okinawa is 8.6 million people and Jeju Island is 13 million people. Jeju Island is far more than Okinawa in terms of the proportion and effect of tourism in the economy. People in Jeju Island are richer because per capita GDP is also 2.8 million yen in Okinawa while Jeju island is 31 thousand dollars. It exceeds Kyushu in general not only in Okinawa. It seems that the recognition of Japanese people is short.
The Chinese government is against the defense policy between the United States and South Korea. Under the influence, the Chinese government took a policy to suppress visiting Korean tourists by arranging travel agencies. Jeju Island has also been greatly affected. It is because the influence is great as the weight of Chinese travelers was high. In 2016, the proportion of mainland Chinese guests in Korea exceeded 45%, Jeju island was also greatly influenced even though domestic tourists share.A Malaysian woman who took part in the tour said that her ancestry was an immigrant from Hainan Island. In any case, under the influence of huge Chinese, Japan, South Korea, ASEAN countries are all there. It is said that the Caribbean is the backyard of the United States. Sooner or later, the Far East and the South China Sea will be said to be the backyard of China.
Now, in Japan's sightseeing spot, they boast that the number of foreigners have been increased.But are they not looking calmly for numbers or not trying to see, foreign tourists are mostly Chinese or Korean.Therefore, rather than one way, mutual exchange is important, and Japanese also have to go out, but their perception is lacking. When the political situation gets worse, since there is not enough consciousness to change suddenly, consciousness of mutual understanding is also thin. Therefore, there is a danger that the tourism will be affected.
There are many ways to go from Japan to Jeju. Between Narita and Cheju is also cheaper than the domestic airfare in Japan, the time is also 2 hours, the same as Kyushu. If you have a passport, you do not need a visa, and if you use a credit card, you do not need to change money. There are many places where WIFI can be used, and there are people speaking Japanese at major tourist facilities. There is a taxi driver who speaks Japanese, and the price is cheap. Therefore, rather than considering it as an overseas trip, consider it as an extension of domestic travel. If Tokyo is a little closer to Jeju, the domestic tourist spot in Japan would have been affected.
I briefly outlined the tour and I uploaded it to FACEBOOK. In order, Sonsan Iljirubon (Shiroyama Hiji peak), Harurathan, Hidden Cliff Hotel, Namp Pampsan (JEJU food), Orle Market. Created using GOOGLE PHOTO.
November 2 afternoon, world heritage · Shiroyama Hiji peak
https://www.facebook.com/shuichi.teramae/posts/704816663048764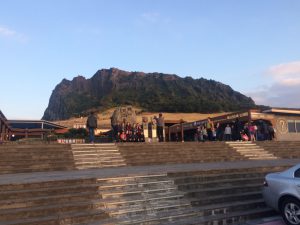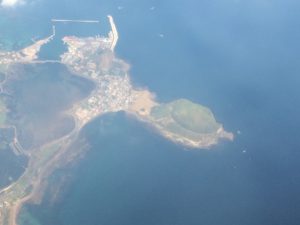 Son Sang Il Jirubon is not as high as 180 meters, but no one attended the climb, so I eventually climbed one person. A photographer's woman followed me.Grass grows in the crater, and it is beautiful from the top. The red Uluru is reported only in the horizontal aspect, but this time there are many reports of green from the top. I was fortunate enough to see it from the plane. There is a high possibility if you sit on the right seat. Tourists seem to come to the morning sunrise. The time of sunrise was firmly engraved. There will be the same impression as Mr. Fuji's welcome. Because there will be impression of being coming from all over the world, it is out of the ordinary and routinely made.
November 3rd World Heritage · Hallasan
https://www.facebook.com/shuichi.teramae/posts/704820056381758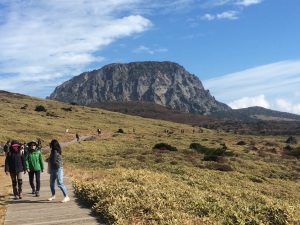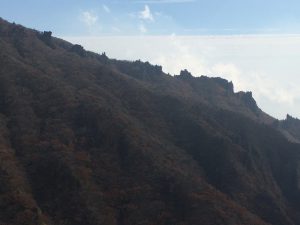 Hallasan is the highest mountain in South Korea, which is 1950 meters.Koreans like climbing, but unexpectedly there are few alpine mountains, which seems to be looking forward to climbing this Jeju Island. This time we will not leave until the summit, and we will bring it to the 1500 meter point with a monorail for transporting goods. It seems that it is a special measure of the Director General of World Heritage Management Secretariat, and tour participants were pleased.
In the past grazing horses, bamboo did not grow abundantly. But now, horses are scarce and bamboo grown. So it seems to make tea from bamboo as raw material. Deer also breeds. Preservation of the ecosystem is difficult anywhere.
On the way, I passed the female climber using a crutches without one leg. I was a little embarrassed. There are a lot of crows, but I saw something that looks like a falcon on the cliff.Falcon had eaten his prey. From the shape of the peak, looking down at the ridgeline named Shogun's General for the left hand, I descended. I remembered Sydney's Three Sisters and I admired that they all had the same idea.On the way, I was taught a red fruit plant that was used to poison politicians' streamaders long ago. The tongue seems to be numb. It seems that they tried the effect a lot, so it is a cruel story.
Accommodation Hidon · Cliff · Hotel
https://www.facebook.com/shuichi.teramae/posts/705148569682240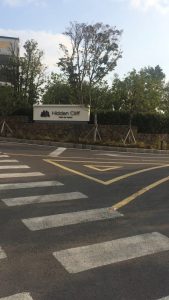 On the 2nd night, I participated in a welcome party at the hotel where I stayed. I could talk with Mr. Kim in various ways. In Okinawa there is an old facility reproduced, but Jeju island is unfortunate because there are no records left. I said that the tradition can be made at any time later, and as a tourism resource, I told you that I do not mind if it is a bit of a relationship. Since the samurai house in Kanazawa all made it to the field at the beginning of the Meiji, it was not left, but later they got the half mansion of the merchant cut out from the bridge in Kaga city and transplanted it. Since it is a tourist resource regardless of a cultural property, we can imagine the buildings of Tanra era from now on. The Japanese shrine was popularized thanks to electric wires, and until then it was a mountain car. Cherry blossoms were after the Meiji period.
Talking about the World Heritage site, Director Kim made a story wishing to acquire the entrance fee. I mentioned that even in the Galapagos, I have an entry fee of 10,000 yen. Rather it meets the purpose of the World Heritage Convention. Also, Uluru in Australia is a red rocky mountain, but Son San Il Jirubon is a black mountain, so I told you to sell it to the world in contrast to red and black. It is a sister's rocky mountain. Combining with Australia will lead to an image upgrade.
Local celebrities were exhibited at the reception. There was a musical instrument performance similar to the koto. Play Arirang and Moon River. It seems to play songs that everyone understands. I heard that the koto is made of brush. Brush is a valuable item and it seems not to cut down now.
November 3 Dinner Nampunpampsan
https://www.facebook.com/shuichi.teramae/posts/705578736305890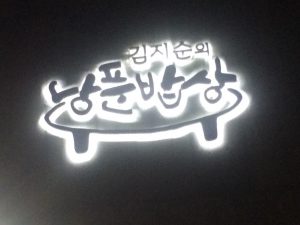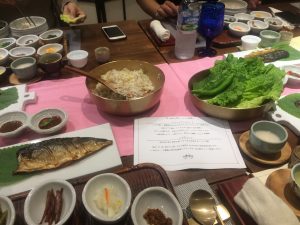 I went to an old-fashioned regional cuisine restaurant in Jeju. It is a restaurant of slow food. Abalone, mackerel, burdock, sesame etc. are utilized. I tried a bit of blue pepper. It is painful again, but it feels tasty as tangy. In Japan it becomes hand-rolled sushi, but here we put the ingredients on the vegetables and eat. Speaking Chinese food is a lettuce package. There are rice in cereals, but there is no paddy field, upland rice seems valuable. You can not take wasabi.Sake was put in a small cup, and five kinds were served. Alcohol made with 100 years of grass, Magnificent Wine, Magnificent Magnolia, etc. were issued. I took care of others and it was finished.
November 4 afternoon Market Orle
https://www.facebook.com/shuichi.teramae/posts/705529746310789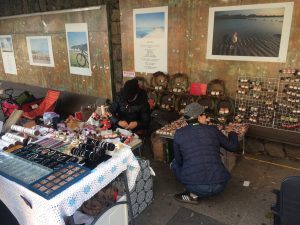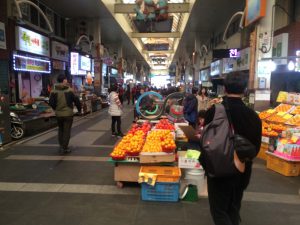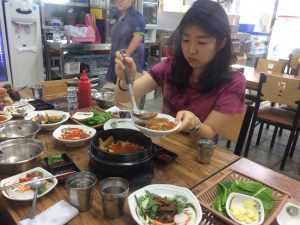 From the afternoon, I went to visit the Orle Market in Sogyipo City. Lunch before visiting. I was taught a civilian meal. Again, put ingredients on the vegetables and eat it with seasoning with pepper based miso. Rice is mixed with chopped paste, but I eat it with hand-rolled sushi style. The soup is also taste brewed with miso tailoring.
To the market after meals. There are only maggots' production areas, many mandarin orange. Face pack cosmetics seem to be popular among women, people were buying. Whether there are many fashionable people, street market like artists' flea markets lined up along the slope.
Finally
Jeju Island may be enjoyable for young people as a resort. However, like Okinawa, the latitude is high and the season is limited to foreigners. That measure is necessary.Both South Korea and Japan are stable economic years. It is not a sightseeing spot with images called golf for horseback riding and shooting, but for middle-aged and elderly people trekking and history search etc. will be a pleasure to travel.
Finally
You should use the image of the country of Tara in which Shiba Ryotaro uses. I think that the 4.3 incident is also a tourism resource. It is because people visit with interest. A new historical awareness will not be born unless the reconciliation of the inter-Korean relations is achieved, but at some point it will be possible, so we have big assets. I just hope that the world heritage will be a complex heritage not too long.